School Cleaners Wanted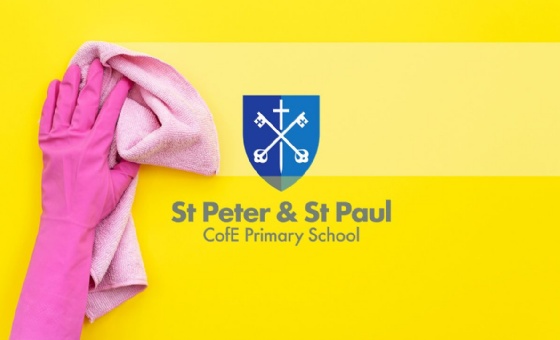 Cleaners (multiple posts available)
6 or 12 hours a week term time only. Fixed Term renewable at the end of the school year. Grade 1 spine point 1 £17,364 (pro rata)
It is an exciting time at St Peter & St Paul CE Primary School, Eye. We have grand plans for the future and are very excited to be offering an opportunity for people to help us shape it.
It's quite simple. We are looking for cleaners who really take pride in their work and will spend 1 or 2 hours (before school starts and after it ends) to take responsibility for a classroom(s) and one or two other areas of the school and make sure they sparkle!
We see cleaning as an equally important part of the efforts we make every day to provide a first rate education. So we don't just want you to come in and do your job in the shadows but become part of the team and get some really good job satisfaction. That's why we want to do something a bit different. We'll pair you up with a class and you can build a relationship with our teachers and TAs and between you make sure the class is just perfect for learning in. No knowledge of fractions necessary!
If you are a parent we can offer childcare to school age children from 7.40am until school starts and from 3.15 to 4.15pm. Of course you won't be expected to pay for it, so call it a perk!
We encourage visits to see the school before you apply for the post. If you are not familiar with the wonderful market town of Eye, then try to put aside some time to take a look around. Not only is it a beautiful place to work, it has good amenities and is easy to get to.
A job description, person specification and application form can be found below. If you do not have access to a computer (our application form doesn't like mobile phones!) then please come and pick-up a paper copy from the school reception.
For an informal chat about the role please call the Headteacher Steve Ginn on: 01379 870 497
We are part of the All Saints Schools Trust who are a group of 8 successful schools sharing expertise and resources to provide excellent teaching and learning. This powerful collaboration provides excellent continued professional development and career prospects.
Applications should be sent to the school office via email: recruitment@eyeprimarysuffolk.org or posted to the school office.
Closing date: Friday 6th Dec 2019 12 noon
Interview date: Monday 9th Dec 2019